العودة
Delivering Quality Education to Children and Youth Left Furthest Behind in Crises (Education Cannot Wait – ECW)
222 Million Dreams: A Case for Investment 2023-2026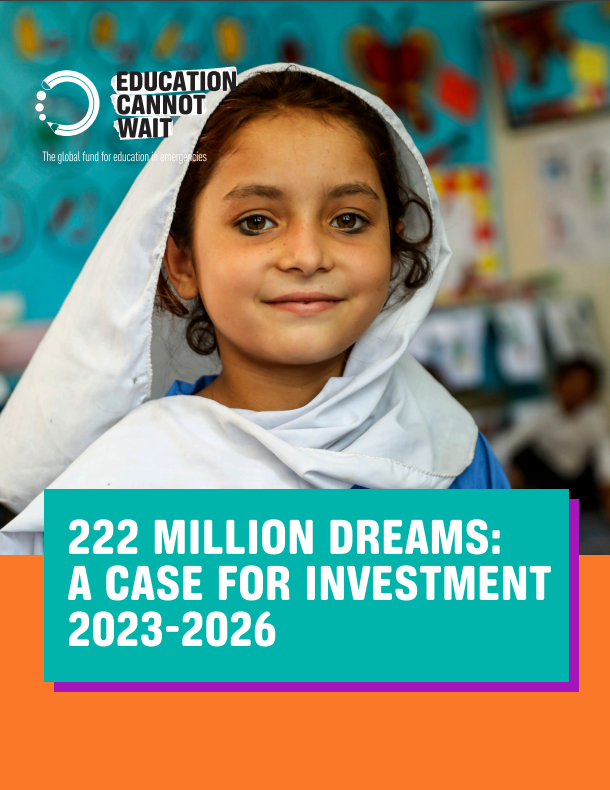 Education is an essential foundation for individual, social and economic development, and a pillar for values such as equality, respect, tolerance, and dignity. Accordingly, investing in education means investing in humanity to realise a peaceful, prosperous future where everyone accesses their human rights as the world reaches the sustainable development goals by 2030.
Thanks to the pioneering fund provided by Education Cannot Wait (ECW) – the United Nations Global Fund for Education in Emergencies and Protracted Crises – those left furthest behind are supported through paradigmatic efforts with the aim of ensuring that all children have access to uninterrupted quality education as a development right in humanitarian frameworks.
As Education Cannot Wait developed its new 2023-2026 Strategic Plan, it called on its partners worldwide to urgently allocate a minimum of US$1.5 billion to ensure 20 million children and young people including 12 million girls affected by crises have access to quality education during the upcoming four years.
Investing in education not only generates individual and social benefits, but also contributes to achieving peace, stability, prosperity, stronger economies and eradicates hunger and poverty.